loiolatik
PROMOTION OF 14 HOMES OF COOPERATIVE NATURE
PROMOTION OF 14 HOMES OF COOPERATIVE NATURE
Plot of land P38-P41 – Loiola area–SOPELA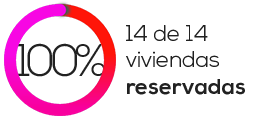 The housing cooperative Loiolatik in Sopela. It has 14 cooperative homes in the residential area of Loiola in Sopela, 4 minutes from the beach and a 2 minutes ride from Larrabasterra metro station. The town of Sopela offers many main services, such as metro, bus, nursery schools, schools, supermarkets, pharmacies, and it is close to the hospital of Urduliz.
The housing cooperative Loiolatik in Sopela consists of 8 buildings where you can choose between 12 two-family homes and 2 single family homes with good illumination, orientation and views.
You can forward this information to people that you think might be interested.
Debido a unos amigos, nos enteramos del tema de la cooperativa, nos informamos y vimos que tenía muchas ventajas, económicamente y también que podías tú diseñar un poco la vivienda. Al final hicieron otra promoción , lo comentaron y nos echamos para delante.
De la experiencia lo que más me ha gustado es que al final es una vivienda nueva, asequible en precio, te la diseñas tú a tú gusto y al final el precio.
Estuvimos buscando por internet un piso para la hija y mirando, mirando vimos esta promoción, la cooperativa y nos echamos para adelante y aquí estamos. Nos parece una oportunidad de tener una casa, que ni habíamos soñado con ello a un precio majo.
Para nosotros ha sido la oportunidad de hacernos una casa y a un precio económico. Nos han dejado opinar cómo queríamos la casa y …estamos contentos.
Llevaba tiempo pensando comprar una vivienda, siempre lo había retrasado. Y me entere a través de unos compañeros de trabajo y me apunte. La cooperativa coloco a gestores que se dedican a ello y sabían cómo funciona el tema de la cooperativa.
La experiencia con Ingiru al final ha sido muy grata en el sentido de pocos dolores de cabeza, todo según se hablo y en plazos, y muy bien en ese sentido.
Te ofrecemos la experiencia de sentir como será la casa de tus sueños gracias a la realidad virtual.